ORDER ARMORED & BULLET-PROOF VEHICLES FROM US
View Our Collections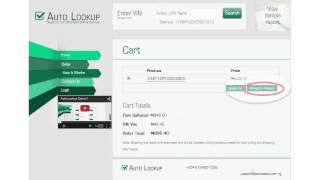 Autolookup.com.ng - How To Check Vehicle History Report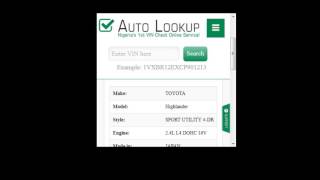 Autolookup - Tablet - Toyota - Highlander
Autolookup.com.ng - How To Check Vehicle History Report

Autolookup.com.ng is Nigeria first vehicle history report online service. Get car history and vehicles health report of cars shipping from USA and Canada. Autolookup.com.NG - Frequently Asked Questions (FAQ) What do I need in order to get a VIN(Vehicle Identification number) report? Answer : All you need to get a vehicle report or VIN report is your VIN number.This number is same as your chassis number. Where can I find the VIN? Answer : You can find your vehicle's VIN in the title document, the vehicle registration, and on the insurance policy. The VIN could also be located at the following locations on the car itself: On the driver's side dashboard (viewable through the windshield) On the driver's side door (on a sticker in the door jamb) Why should I order a VIN report? Answer : A VIN report lets you learn about your vehicle's history. It includes checks for whether the car has been stolen, experienced accidents, recorded as salvaged, as well as many other title problem checks. Ordering a VIN report before purchasing a vehicle allows you to catch potential problems and purchase with confidence. How does a VIN check work? Answer : As part of your VIN check, autolookup.com.ng will search your VIN for all associated records available across the National Motor Vehicle Title Information System(NMVTIS), which maintains a network of vehicle history data from a wide variety of providers. In fact, all states, insurance companies, and junk and salvage yards are required by federal law to regularly report information to NMVTIS. This enables you to access up-to-date, comprehensive data associated with your vehicle. Can I pay via my Nigerian debit card? Answer : Yes, you can pay for your VIN report order on our website www.autolookup.com.ng by usin your Nigerian issued debit cards. Can I pay directly into your Bank account? Yes, you can. Visit www.autolookup.com.ng/contact for details on bank payment option procedure.

Autolookup - Tablet - Toyota - Highlander

Autocheck for Toyota Highlander at www.autolookup.com.ng using a mobile tablet.

Autolookup - Mobile - Toyota - Camry Lookup

Vehicle history lookup of Toyota Camry on autolookup.com.ng using a mobile phone
In partnership with the National Motor Vehicle Title Information System, Auto Lookup reports contain:
Title Problem Checks
Checks for over 60 different types of title brands.
Junk, Salvage, and Insurance Record Checks
Verification across over 40 million junk, salvage, and total loss records.
Accident Checks
Related accidents reported by state DMVs and other sources.
Odometer Checks
Record of odometer recordings for catching rollbacks and tampering.
Vehicle and Title Information
Historical title registrations and detailed vehicle specifications.
To be able to make an order for  VIN report on this site, you will need a 
Voguepay, Paga or 
Cashenvoy funded account. Otherwise, check the Contact Us page for Bank payment procedures.
You can also order our Ve
hicle History Report from GTB SMEMarkethub.
Watch this video to learn How To Order a Vehicle Report from our site.

 Check our Partner Vehicle Tracking Solutions
Leave a comment